Grandma Airgood would sit and listen to the police scanner all day. The white noise interrupted by intermittent blasts of static-y voices would compete against the blaring television to see who could portray a scarier version of life. We would sit as a family and watch 9-1-1 Emergency and pause it only when the scanner beeped. As the screeches droned forth from the little box, I realized that there were codes I didn't understand - codes that grandma knew by heart. I was very young and I didn't recognize the street names, but grandma did. With each announcement from the scanner, grandma would call out the name of a friend or family member who lived near that place or might be near that place and what had happened to them. Like the most realistic game of Clue, she would call "Sam, dead in a house fire" or - "That's Sharol - she is driving in that neighborhood right now."
Grandma Airgood in the 1970s with cousin Kim
This was in the days before cell phones - so we would sit together huddled around the little black prophet box and wait for more news or for our nearly-departed to swing open the screen door and enter back into our lives.
At five or six, my very frail grandfather and I were playing hide and seek. I pushed up against the basement door, and as it swung open I fell down the basement steps. I landed on the hard concrete at the bottom. The last words I heard before passing out were my grandmother's: "He's dead. People die from falls like that."
As an Airgood, I must constantly battle the negativity monster. For every positive thought that I have, I have three negative ones. I'm constantly filled with judgement for those who are less than me and contempt for those who are better than me. My first thought on any topic is usually negative. I naturally assume that failure will be the order of the day.
Some days I conquer the negativity monster, some days I cower in terror from it. For me, the single greatest challenge I face is finding that the negativity monster should have won. When I trust someone and they disappoint me it can be devastating - because deep down I always believed they would hurt me.
When Corrie Ten Boom sat in prison cells for her crime of saving Jewish lives, her sister Nollie signed every letter from the outside - Christ is Victor. Her other sister, Betsie, died in Ravensbruck death camp - Betsie often told Corrie that "There is no pit so deep that God is not deeper still."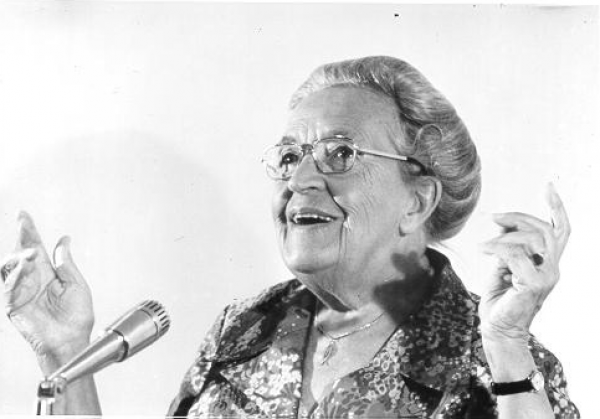 I have tremendous adoration for these saints who can see only good. Corrie writes that after her sister's face had been slit open by the whip of a Nazi commander, her sister said, "Don't look at it - only look at Jesus."
I love these people, but I'm not one of them.
My mentor in college told me once that for Jesus there were three tomb days and one resurrection day - and that we shouldn't expect better odds than that. My mentor chose a Tuesday morning class when half the students had skipped to share the story of great tragedy and loss in his life. It was deeply personal and we all cried with him. When he and I had lunch later that day, he told me that he didn't even have a photograph to remember her by, because they had all been stolen over the years. Three times thieves broke into his house, backed a moving truck up to the window, and carted every item out of the house. His Peruvian neighbors all just assumed that the "gringo" was moving out. On three different occasions, every last scrap of paper in his home was stolen. It was on this Tuesday that he told me about tomb days and resurrection days.
I don't trust Christians who seem to have too many resurrection days, or, rather, I don't trust Christians who don't spend any time in the tomb.
Itineration is an important part of missionary service. I love itinerating - I love visiting churches and meeting the people who support me. But itineration is hard. I never lie while I'm talking at churches.* But I obviously focus on the resurrection days a good bit more than the tomb days. This is just a fact of life for missionaries.
Kathy Clark and I pulled up to the church in her little car. Rev Clark had volunteered to drive me around as I itinerated and she pulled her balled-up alb out of the back seat just in case she needed it - and we went inside. I had just been diagnosed with Lyme's Disease, and my whole body ached. I preached at three services at three different locations, and I was doing pretty well. My hands were pulling up into fists because of the arthritis, and my left foot was a club - but I was determined to make it through all three services. I'm an active preacher, and at one point - for God knows what reason - I got down on one knee. I tried to stand up, but I was frozen. If I wanted to stand, I was going to have to put all of my weight on my left foot. For a minute, I thought I was going to have to stop and have Kathy Clark pull me back up. I pulled myself up by swiveling around at the same time so no one would see me wince in pain. It had been a hard year. My community had faced tragedy. I had been abused and harmed by people that I love and by people who didn't even know me. I stepped on that foot and I felt all the pain and all the hurt and my whole face and body contorted into a ghastly grimace - and I knew that in just a moment I would have to turn around and smile at these nice people.
And I did it. And I finished the sermon. And during the prayer time, the pastor announced that I had Lyme Disease and everyone sympathetically gasped which is apparently the appropriate reaction.
And after the service, the older lady who headed up the mission committee invited Kathy and me out to lunch. It was buffet style, and at one point, she turned to Kathy and said, "My husband and I used to come here every Sunday. This is the first time I've been here since he died." She started to cry and Kathy comforted her. Kathy shared something from her life. And then I started sharing about what had happened. I told them about all the muck that our community had waded through, and I got very personal and very real. I told them about putting my weight on my left foot. And we sat together and we were very real with each other. We all shared each other's burdens and it was beautiful.
It made me happy just to share life together with other Christians. I didn't have to put on the missionary face and highly edit what I shared and what I kept to myself. I'm not very good at wearing the missionary face, and that's probably for the best.
One of the biggest problems that missionaries face is the expectation of maintaining a perfect exterior. I don't know why we fall for it - but we do. We believe that people have to see us as super Christians. And maybe our faith is extraordinary. By no choice of our own, we often find ourselves in situations where reliance on God is the only option. Maybe over time our capacity to receive grace grows. Maybe we are energized by being around so many faithful people after a long time of slowly trudging along in the jungle alone and it just seems that we are super Christians.

If you have read the private letters of Mother Teresa, you have a pretty clear idea of the sense of emptiness and loneliness that often accompanies missionary service. If you haven't, maybe it's easier to believe that missionaries are super-human faith balloons - that just keep getting pumped up more and more. This is not the truth. We are embers that have fallen out of the fireplace - the lucky among us find other embers or start a new fire to keep our glow. But many never have that chance. Many of us burn out.

Olya showed up at our student center one day and we talked for a bit - she was a bit loud and dressed like a hipster. A few days later I was in Kyiv and saw Olya with a group of her friends and was introduced to everyone. Nazar was shy and quite and nothing like Olya. I met both of my best friends in Ukraine within three days of each other. I had lived in Ukraine for months before I met them. I was an ember just about to fade away when they came into my life. Their bright faith and riotous laughter sustained me through some dark days. I'm truly blessed, to call Ukrainians best friends. I lived in Korea for seven months without even making an acquaintance to call my own. To have two Ukrainian friends who would do anything for me is more precious than anything in my life. They held me accountable to learning Ukrainian, held me up when I was down, and held me together when my world came crashing down. I owe so much of my life and ministry to them - and I thank God every day for putting such wonderful friends in my life.

This is life.

I think this is what is so often missing from the missionary narrative. Missionaries must live. They need to have honest friendships and fun and messes and pain. They need to sit around a table with people in whom they can trust and share deep pain. They need to hold hands at the train station before saying goodbye. They need to love and be loved. Missionaries are human.

We are all human.
*I am very thankful that I serve in the United Methodist Church with the General Board of Global Ministries. I don't have to raise a dime of my salary. When I'm fundraising - I'm raising money for the next kid who comes along. There is no pressure to raise money. Many of my missionary friends in other denominations had to raise their full support before they could even go to the field - many still have thousands of dollars left to raise before they can go. This is a tragedy, truly.